About "FF6", the 6th popular series of world view with a mixture of sword, magic and machine, which has a sharp impression.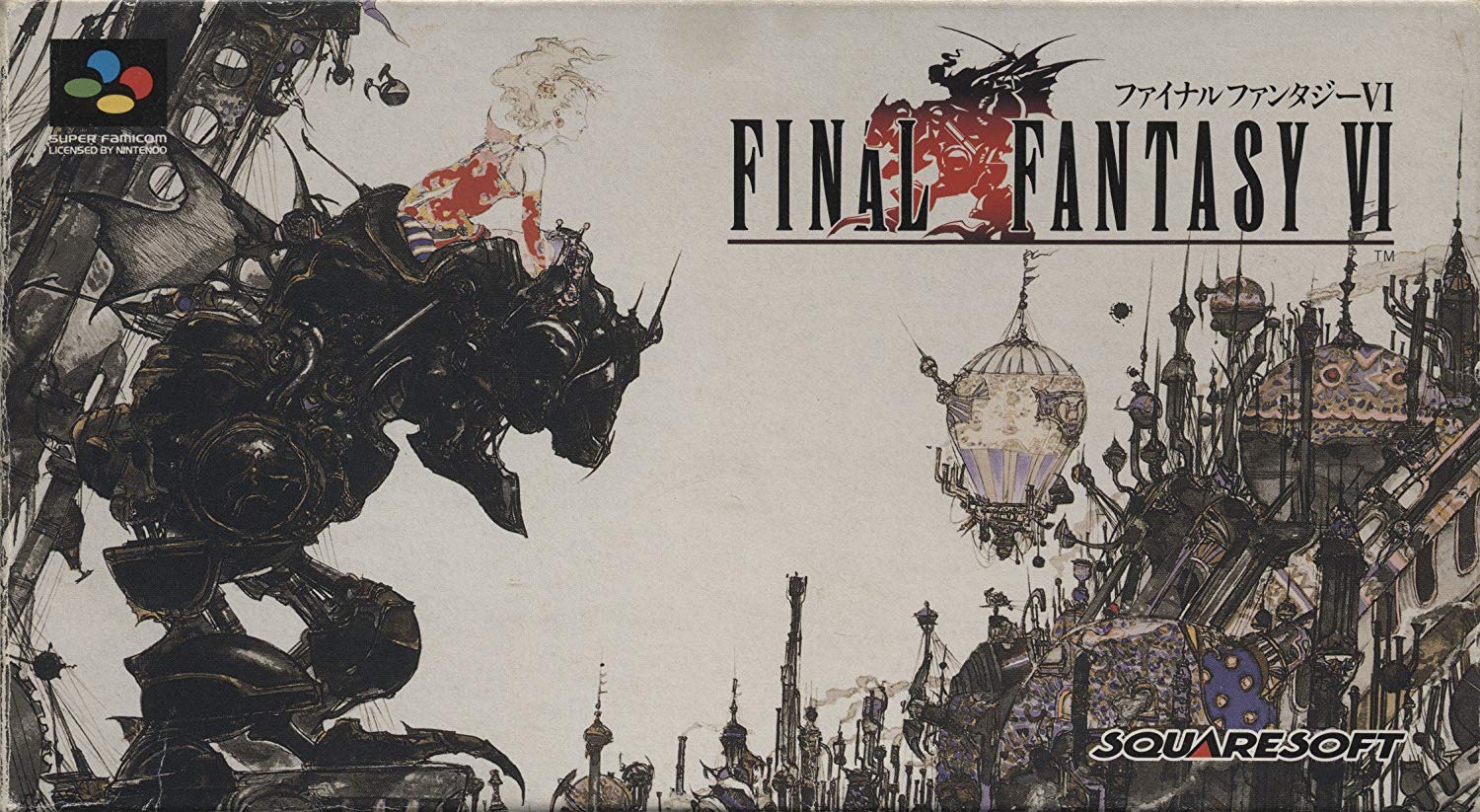 Where it was interesting
I didn't know when I was a kid, but I think I was able to convince myself that when I started to think that it was not a single protagonist like Dragon Quest, but a group of protagonists.
The opera theater was astonished by the sound of trying to reproduce the singing voice.
There are also tasting events such as Edgar Mash deciding to succeed the throne with a coin toss.
The reminiscences of the setzer that floated down the stairs along with the flowing tombstone, and the event in which the Falcon emerged from there and proceeded in a flowing manner to Buddy, together with BGM, was thrilling.
I think it was beyond Sufami's expressive power, and I think the sign of the shock of 7 was already there.
Although it is not a job, it is possible to add unique abilities such as jumping and drooling with accessories.
With the equipment, I was tickled by the gamer's heart, such as a very strong kappa system when it was in a state of abnormal kappa, or that the penetrating tail changed to the end of eui.
The Setzer's Ikasama Dice was also helpful and fun when there was no source of damage.
Profound growth factor
What was done was a mechanism for leveling up.
I personally thought it wasn't as important as Dragon Quest, so I thought it didn't mean much.
What was important was the bonus points given by the magic stone.
FF6 does not require many levels, so it is said that the level will be raised at a stretch from the middle to the latter half of the game, when you can get a magic stone that progresses at a low level and gets a bonus to the ability value. Possible.
The ATB gauge can be instantly accumulated to create a character with offensive power and magical power.
It was a too deeply obedient specification that you could raise it to a super powerful character that balance would go away if there was only a magic stone.
Since level 99 is the limit, if you aim, you will maintain the lowest level possible and proceed.
Even if the initial level was difficult, if I was at level 10, I was able to achieve it even by myself, who was not an aficionado!
The reason is that you can escape the normal battle, the boss battle has no experience value, and there is some escape route other than the direct attack method, it is an exquisite balance.
Even if you don't stick to the lowest level, you will be strong enough.
I enjoyed fighting with a character who grew up as a balance breaker that was close to the strongest.
I think I became stronger when I was able to go around Tyrannosaurus. Even Kefka can do it.
The skill level of magic is also perfect, and anyone can learn the magic they like. There was a difference in the degree of proficiency depending on the magic stone, so I raised the magic stone while raising it.
Tricks
Banish + Death is also memorable. I hunted a lot of sleeping lions.
I think I enjoyed some boss battles as well. (It has been fixed in the GBA version and it no longer works, but that is the proper balance)
Places of concern
I think that the view that all 14 party members are protagonists is unreasonable. I understand that messages are considered so that anyone can operate as the main character, but there are also scenes where there is a feeling of strangeness. Some characters have little feelings.
Summary
I feel that the stunning images represented by dots were the top class in Sufami. Because it was a dot, it was fun to play while imagining various things.
I was amazed at the depth of character expression, a system that allows the creation of characters that transcend normal balance.
A masterpiece that you will notice every time you do it. It can also be played on game archives, GBA versions, and New3DS VCs.
I am also selling on ebay. Please take a look.
https://www.ebay.com/usr/triver35
Thank you for reading to the end. If you have any information about games, anime, or manga you would like to know, please let us know.
Please feel free to contact us about the items you want to list on eBay.